Little naturalists on a discovery tour
Nursery school children from Freiburg visit our "Living Wittental"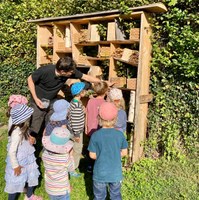 During a visit of the Jacobistraße kindergarten to our institute, the children aged between four and five were allowed to marvel at insects and other small animals and the fascinating behaviour of bark beetles. Together with Prof. Peter Biedermann, who arranged this excursion, the little researchers went on an exploratory tour through the biotopes of the "Living Wittental" project. They discovered busy wild bees, dazzling dragonflies, a grass snake and even a small stag beetle! We are very happy that the children enjoyed this day with us and hope that this special excursion left lasting impressions.